Saddlebag Guard Bag with Water 
Bottle Holder
Part Number:
93300061
Convenient on-the-go storage. Sturdy synthetic leather bags snap to the saddlebag guards for easy access. The storage compartment features a hook-and-loop outer flap and a zippered inner closure to store sunglasses, wallets and cell phones, and the adjoining sleeve securely grips a removable water bottle to help keep you hydrated on the road. Fits '93-later Touring models equipped with Saddlebag Guards.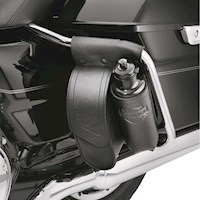 Dit product kan alleen gebruikt worden met de volgende Harley-Davidsons.
Touring

FLHR (2000-2020)
FLHRC (2007-2013)
FLHRCI (2000-2006)
FLHRI (2000-2006)
FLHRS (2004-2007)
FLHRSE3 (2007)
FLHRSE4 (2008)
FLHRSE5 (2013)
FLHRSE6 (2014)
FLHRSEI (2002)
FLHRSEI2 (2003)
FLHRSI (2004-2006)
FLHRXS (2017-2020)
FLHT (2000-2009)
FLHTC (2000-2005, 2007-2013)
FLHTCI (2000-2006)
FLHTCSE (2004)
FLHTCSE2 (2005)
FLHTCU (2007-2019)
FLHTCUI (2000-2006)
FLHTCUL (2015-2016)
FLHTCUSE (2006)
FLHTCUSE2 (2007)
FLHTCUSE3 (2008)
FLHTCUSE4 (2009)
FLHTCUSE5 (2010)
FLHTCUSE6 (2011)
FLHTCUSE7 (2012)
FLHTCUSE8 (2013)
FLHTI (2003-2006)
FLHTK (2010-2020)
FLHTKL (2015-2019)
FLHTKSE (2014-2020)
FLHX (2006-2020)
FLHXI (2006)
FLHXS (2014-2020)
FLHXSE (2010)
FLHXSE2 (2011)
FLHXSE3 (2012)
FLHXXX (2010-2011)
FLTR (2000-2002, 2007-2009)
FLTRI (2000-2006)
FLTRK (2020)
FLTRSE3 (2009)
FLTRSEI (2000)
FLTRSEI2 (2001)
FLTRU (2011-2013, 2016-2019)
FLTRUSE (2011)
FLTRX (2010-2013)
FLTRXSE2 (2013)