Saddlebag Latch Plate
Part Number:
90853-06DH
Saddlebag Latch Plates are an easy way to give your Touring bike a unique monochrome look. Available in Vivid Black or Primed finish, these latches add a splash of color to the motorcycle profile. Easy to install with Original Equipment hardware. Fits '93-'13 Touring models equipped with Color-Matched Hard Saddlebags. HDI models require separate purchase of Reflectors P/N 59289-92 and 59290-92.
Vivid Black - Right Side.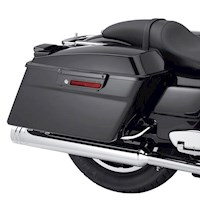 Dit product kan alleen gebruikt worden met de volgende Harley-Davidsons.
MotorSaloon.Library.Models.Family

MotorSaloon.Library.Models.BikeModel (2000-2013)
MotorSaloon.Library.Models.BikeModel (2000-2006)
MotorSaloon.Library.Models.BikeModel (2007)
MotorSaloon.Library.Models.BikeModel (2008)
MotorSaloon.Library.Models.BikeModel (2013)
MotorSaloon.Library.Models.BikeModel (2000-2009)
MotorSaloon.Library.Models.BikeModel (2000-2005, 2007-2013)
MotorSaloon.Library.Models.BikeModel (2000-2006)
MotorSaloon.Library.Models.BikeModel (2007-2013)
MotorSaloon.Library.Models.BikeModel (2000-2006)
MotorSaloon.Library.Models.BikeModel (2003-2006)
MotorSaloon.Library.Models.BikeModel (2010-2013)
MotorSaloon.Library.Models.BikeModel (2007-2013)
MotorSaloon.Library.Models.BikeModel (2010)
MotorSaloon.Library.Models.BikeModel (2011)
MotorSaloon.Library.Models.BikeModel (2012)
MotorSaloon.Library.Models.BikeModel (2000-2002, 2007-2009)
MotorSaloon.Library.Models.BikeModel (2000-2006)
MotorSaloon.Library.Models.BikeModel (2009)
MotorSaloon.Library.Models.BikeModel (2011-2013)
MotorSaloon.Library.Models.BikeModel (2011)
MotorSaloon.Library.Models.BikeModel (2010-2013)
MotorSaloon.Library.Models.BikeModel (2012)
MotorSaloon.Library.Models.BikeModel (2013)