Screamin' Eagle Exhaust Shield Kit - Softail®
Part Number:
80817-10A
Extend the blacked-out look along the bike's entire profile. These formed steel exhaust shields feature a unique jet black ceramic coating that complements the jet black Screamin' Eagle® Street Performance Slip-On Mufflers. The jet black coating maintains its uniform black finish and has survived stringent Harley-Davidson testing for durability and corrosion resistance. Manufactured to Original Equipment standards for exacting fit, the easy-to-install kit includes front and rear head pipe shields.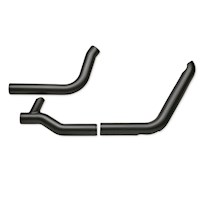 Dit product kan alleen gebruikt worden met de volgende Harley-Davidsons.
MotorSaloon.Library.Models.Family

MotorSaloon.Library.Models.BikeModel (2007-2017)
MotorSaloon.Library.Models.BikeModel (2010-2016)
MotorSaloon.Library.Models.BikeModel (2016-2017)
MotorSaloon.Library.Models.BikeModel (2011-2013)
MotorSaloon.Library.Models.BikeModel (2007)