Air Wing Rack LED Light Kit
Part Number:
68000112
Custom fit to the Air Wing Tour-Pak Rack, this fast-acting LED Light Kit operates as a supplemental rear running light and brake light. The high, center-mount position places the rear light in the line-of-sight of following vehicles and the bright, fast-acting LED lamps get you noticed. Wiring is concealed inside the rack tubes for a clean, custom installation. Fits '14-later Touring and Trike models equipped with Air Wing Tour-Pak Luggage Rack P/N 79179-08 or 53000063. Also fits '14-later FLHTKSE and '15-later FLTRUSE models with Original Equipment Tour-Pak Rack.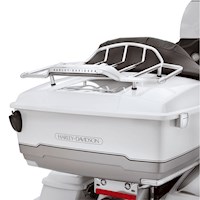 Dit product kan alleen gebruikt worden met de volgende Harley-Davidsons.
MotorSaloon.Library.Models.Family

MotorSaloon.Library.Models.BikeModel (2014-2020)
MotorSaloon.Library.Models.BikeModel (2014)
MotorSaloon.Library.Models.BikeModel (2017-2020)
MotorSaloon.Library.Models.BikeModel (2014-2019)
MotorSaloon.Library.Models.BikeModel (2015-2016)
MotorSaloon.Library.Models.BikeModel (2020)
MotorSaloon.Library.Models.BikeModel (2014-2020)
MotorSaloon.Library.Models.BikeModel (2015-2019)
MotorSaloon.Library.Models.BikeModel (2014-2020)
MotorSaloon.Library.Models.BikeModel (2014-2020)
MotorSaloon.Library.Models.BikeModel (2014-2020)
MotorSaloon.Library.Models.BikeModel (2015-2020)
MotorSaloon.Library.Models.BikeModel (2020)
MotorSaloon.Library.Models.BikeModel (2016-2019)
MotorSaloon.Library.Models.BikeModel (2015-2016)
MotorSaloon.Library.Models.BikeModel (2015-2020)
MotorSaloon.Library.Models.BikeModel (2015-2020)

MotorSaloon.Library.Models.Family

MotorSaloon.Library.Models.BikeModel (2014-2020)