Chopped Fender Edge Light
Part Number:
68000105
Style and function in one. This center-mount running and brake light commands the attention of following vehicles. The bright, fast-acting LED lamp glows red when the ignition is on and intensifies when the brakes are applied. The low-profile lamp is contoured to hug the curve of the chopped rear fender and adds a stylish touch of color, even when the bike is parked.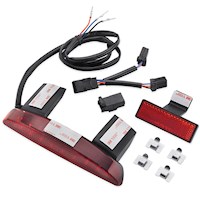 Dit product kan alleen gebruikt worden met de volgende Harley-Davidsons.
MotorSaloon.Library.Models.Family

MotorSaloon.Library.Models.BikeModel (2018-2020)
MotorSaloon.Library.Models.BikeModel (2014-2016)
MotorSaloon.Library.Models.BikeModel (2014-2020)
MotorSaloon.Library.Models.BikeModel (2018-2019)
MotorSaloon.Library.Models.BikeModel (2014-2020)