Screamin' Eagle Slash Cut Muffler Shields - Chrome
Part Number:
65400464
Styled to complement the ballistic inlet shape of the Screamin' Eagle Street Performance Slip-On Mufflers. The slash-cut rear shield features a laser-etched Screamin' Eagle signature script. Easy-to-install kit includes front and rear shields and mounting hardware.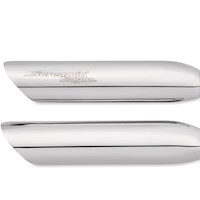 Dit product kan alleen gebruikt worden met de volgende Harley-Davidsons.
MotorSaloon.Library.Models.Family

MotorSaloon.Library.Models.BikeModel (2007-2010)
MotorSaloon.Library.Models.BikeModel (2007-2017)
MotorSaloon.Library.Models.BikeModel (2007-2014)
MotorSaloon.Library.Models.BikeModel (2007)
MotorSaloon.Library.Models.BikeModel (2008)
MotorSaloon.Library.Models.BikeModel (2007-2008)

MotorSaloon.Library.Models.Family

MotorSaloon.Library.Models.BikeModel (2012-2017)
MotorSaloon.Library.Models.BikeModel (2016-2017)
MotorSaloon.Library.Models.BikeModel (2007-2017)
MotorSaloon.Library.Models.BikeModel (2007-2017)
MotorSaloon.Library.Models.BikeModel (2010-2016)
MotorSaloon.Library.Models.BikeModel (2016-2017)
MotorSaloon.Library.Models.BikeModel (2007-2017)
MotorSaloon.Library.Models.BikeModel (2014-2015)
MotorSaloon.Library.Models.BikeModel (2008-2011)
MotorSaloon.Library.Models.BikeModel (2007)
MotorSaloon.Library.Models.BikeModel (2010)
MotorSaloon.Library.Models.BikeModel (2011)
MotorSaloon.Library.Models.BikeModel (2012)
MotorSaloon.Library.Models.BikeModel (2008-2009)
MotorSaloon.Library.Models.BikeModel (2008-2011)
MotorSaloon.Library.Models.BikeModel (2011-2013)
MotorSaloon.Library.Models.BikeModel (2013-2017)
MotorSaloon.Library.Models.BikeModel (2013-2014)
MotorSaloon.Library.Models.BikeModel (2016-2017)
MotorSaloon.Library.Models.BikeModel (2007)
MotorSaloon.Library.Models.BikeModel (2007-2009)
MotorSaloon.Library.Models.BikeModel (2007-2010)
MotorSaloon.Library.Models.BikeModel (2007)
MotorSaloon.Library.Models.BikeModel (2007)
MotorSaloon.Library.Models.BikeModel (2008)
MotorSaloon.Library.Models.BikeModel (2009)

MotorSaloon.Library.Models.Family

MotorSaloon.Library.Models.BikeModel (2007-2019)
MotorSaloon.Library.Models.BikeModel (2016-2020)
MotorSaloon.Library.Models.BikeModel (2007-2011)
MotorSaloon.Library.Models.BikeModel (2007-2012)
MotorSaloon.Library.Models.BikeModel (2018-2020)
MotorSaloon.Library.Models.BikeModel (2007-2008)
MotorSaloon.Library.Models.BikeModel (2014-2017)
MotorSaloon.Library.Models.BikeModel (2012-2016)
MotorSaloon.Library.Models.BikeModel (2010-2020)
MotorSaloon.Library.Models.BikeModel (2018-2019)
MotorSaloon.Library.Models.BikeModel (2007)
MotorSaloon.Library.Models.BikeModel (2007-2008)
MotorSaloon.Library.Models.BikeModel (2007-2009)
MotorSaloon.Library.Models.BikeModel (2007-2019)
MotorSaloon.Library.Models.BikeModel (2009-2020)
MotorSaloon.Library.Models.BikeModel (2007)
MotorSaloon.Library.Models.BikeModel (2009-2010)
MotorSaloon.Library.Models.BikeModel (2011-2012)