Screamin' Eagle® Fat Exhaust Shield Kit
Part Number:
65400082
These Fat Exhaust Shields transform your bike into a bruiser by giving the head pipes a thick and muscular appearance. This kit replaces the stock header heat shields with a large diameter version that blends with the outer diameter of the muffler, giving the appearance of a larger exhaust system without compromising sound or performance. This easy-to-install kit includes front and rear heat shields. Fits '07-later FXS, FLSTF and FLSTFB models.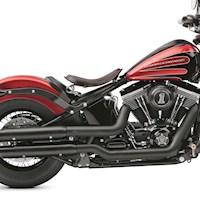 Dit product kan alleen gebruikt worden met de volgende Harley-Davidsons.
MotorSaloon.Library.Models.Family

MotorSaloon.Library.Models.BikeModel (2007-2017)
MotorSaloon.Library.Models.BikeModel (2010-2016)
MotorSaloon.Library.Models.BikeModel (2016-2017)
MotorSaloon.Library.Models.BikeModel (2011-2013)