Blunt Slash Muffler End Cap - 4.5" - Black
Part Number:
65100166
These End Cap Kits allow you to personalize your Screamin' Eagle Street Performance Touring Mufflers. Available in your choice of styles, these easy-to-install caps are dressed with the same finish as the mufflers and exhaust shields for a consistent look front to back. Sold in pairs, the kit includes all required mounting hardware.
Fits '18-later FLSB and '17-later Touring models equipped with 4.5" Screamin' Eagle Street Cannon Mufflers. Does not fit CVO Touring mufflers. Sold Individually.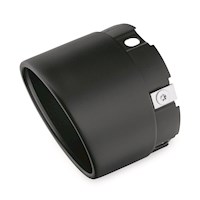 Dit product kan alleen gebruikt worden met de volgende Harley-Davidsons.
MotorSaloon.Library.Models.Family

MotorSaloon.Library.Models.BikeModel (2018-2020)

MotorSaloon.Library.Models.Family

MotorSaloon.Library.Models.BikeModel (2017-2020)
MotorSaloon.Library.Models.BikeModel (2017-2020)
MotorSaloon.Library.Models.BikeModel (2019-2020)
MotorSaloon.Library.Models.BikeModel (2017-2019)
MotorSaloon.Library.Models.BikeModel (2017-2020)
MotorSaloon.Library.Models.BikeModel (2017-2019)
MotorSaloon.Library.Models.BikeModel (2017-2020)
MotorSaloon.Library.Models.BikeModel (2017-2020)
MotorSaloon.Library.Models.BikeModel (2017-2020)
MotorSaloon.Library.Models.BikeModel (2017-2020)
MotorSaloon.Library.Models.BikeModel (2020)
MotorSaloon.Library.Models.BikeModel (2017-2019)
MotorSaloon.Library.Models.BikeModel (2017-2020)
MotorSaloon.Library.Models.BikeModel (2017-2020)
MotorSaloon.Library.Models.BikeModel (2018-2019)