Two-Piece Muffler End Cap - 4.5", Black
Part Number:
65100161
Shaped to provide a complete finishing touch to the rear of your bike, these slash cut end caps feature a reverse cone rolled edge for a massive solid billet look. The reverse cone opening hugs the internal slotted flash suppressor-inspired barrel for a weapons-grade style.
Fits '18-later FLSB and '17-later Touring models equipped with 4.5" Screamin' Eagle Street Cannon Mufflers. Does not fit CVO Touring mufflers. Sold Individually.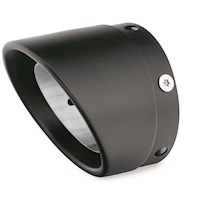 Dit product kan alleen gebruikt worden met de volgende Harley-Davidsons.
MotorSaloon.Library.Models.Family

MotorSaloon.Library.Models.BikeModel (2018-2020)

MotorSaloon.Library.Models.Family

MotorSaloon.Library.Models.BikeModel (2017-2020)
MotorSaloon.Library.Models.BikeModel (2017-2020)
MotorSaloon.Library.Models.BikeModel (2019-2020)
MotorSaloon.Library.Models.BikeModel (2017-2019)
MotorSaloon.Library.Models.BikeModel (2017-2020)
MotorSaloon.Library.Models.BikeModel (2017-2019)
MotorSaloon.Library.Models.BikeModel (2017-2020)
MotorSaloon.Library.Models.BikeModel (2017-2020)
MotorSaloon.Library.Models.BikeModel (2017-2020)
MotorSaloon.Library.Models.BikeModel (2017-2020)
MotorSaloon.Library.Models.BikeModel (2020)
MotorSaloon.Library.Models.BikeModel (2017-2019)
MotorSaloon.Library.Models.BikeModel (2017-2020)
MotorSaloon.Library.Models.BikeModel (2017-2020)
MotorSaloon.Library.Models.BikeModel (2018-2019)