Muffler End Caps - 3.5" Satin Black
Part Number:
65100153
These easy-to-install caps allow you to finish your Softail® 3.5" Screamin Eagle Street Cannon mufflers your way. Sold in pairs these Satin Black end caps feature a subtle engraved Screamin' Eagle script for a clean look. Installation hardware included.
Fits '18-later Softail models equipped with Screamin' Eagle Street Cannon Mufflers P/N 64900636, 64900638, 64900690 or 64900691.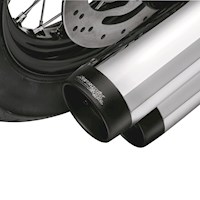 Dit product kan alleen gebruikt worden met de volgende Harley-Davidsons.
MotorSaloon.Library.Models.Family

MotorSaloon.Library.Models.BikeModel (2018-2020)
MotorSaloon.Library.Models.BikeModel (2018-2020)
MotorSaloon.Library.Models.BikeModel (2018-2019)
MotorSaloon.Library.Models.BikeModel (2018-2020)
MotorSaloon.Library.Models.BikeModel (2018-2020)
MotorSaloon.Library.Models.BikeModel (2020)

MotorSaloon.Library.Models.Family

MotorSaloon.Library.Models.BikeModel (2018-2019)
MotorSaloon.Library.Models.BikeModel (2018-2020)

MotorSaloon.Library.Models.Family

MotorSaloon.Library.Models.BikeModel (2018-2020)

MotorSaloon.Library.Models.Family

MotorSaloon.Library.Models.BikeModel (2018-2020)
MotorSaloon.Library.Models.BikeModel (2018-2020)