Screamin' Eagle End Caps - 3.25"
Part Number:
65100063
These easy-to-install caps allow you to finish your 3.25" Screamin Eagle mufflers your way. Sold in pairs. Installation hardware included. Fits '14-later XL and '07-later Softail® models equipped with Screamin' Eagle 3.25" Street Cannon Mufflers.
Jet Black - Slash Up/Down/Out.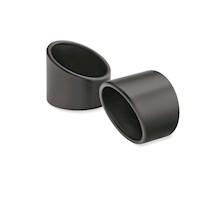 Dit product kan alleen gebruikt worden met de volgende Harley-Davidsons.
MotorSaloon.Library.Models.Family

MotorSaloon.Library.Models.BikeModel (2012-2017)
MotorSaloon.Library.Models.BikeModel (2016-2017)
MotorSaloon.Library.Models.BikeModel (2007-2017)
MotorSaloon.Library.Models.BikeModel (2007-2017)
MotorSaloon.Library.Models.BikeModel (2010-2016)
MotorSaloon.Library.Models.BikeModel (2016-2017)
MotorSaloon.Library.Models.BikeModel (2007-2017)
MotorSaloon.Library.Models.BikeModel (2014-2015)
MotorSaloon.Library.Models.BikeModel (2008-2011)
MotorSaloon.Library.Models.BikeModel (2007)
MotorSaloon.Library.Models.BikeModel (2010)
MotorSaloon.Library.Models.BikeModel (2011)
MotorSaloon.Library.Models.BikeModel (2012)
MotorSaloon.Library.Models.BikeModel (2008-2009)
MotorSaloon.Library.Models.BikeModel (2008-2011)
MotorSaloon.Library.Models.BikeModel (2011-2013)
MotorSaloon.Library.Models.BikeModel (2013-2017)
MotorSaloon.Library.Models.BikeModel (2013-2014)
MotorSaloon.Library.Models.BikeModel (2016-2017)
MotorSaloon.Library.Models.BikeModel (2007)
MotorSaloon.Library.Models.BikeModel (2007-2009)
MotorSaloon.Library.Models.BikeModel (2007-2010)
MotorSaloon.Library.Models.BikeModel (2007)
MotorSaloon.Library.Models.BikeModel (2007)
MotorSaloon.Library.Models.BikeModel (2008)
MotorSaloon.Library.Models.BikeModel (2009)

MotorSaloon.Library.Models.Family

MotorSaloon.Library.Models.BikeModel (2014-2019)
MotorSaloon.Library.Models.BikeModel (2016-2020)
MotorSaloon.Library.Models.BikeModel (2018-2020)
MotorSaloon.Library.Models.BikeModel (2014-2017)
MotorSaloon.Library.Models.BikeModel (2014-2016)
MotorSaloon.Library.Models.BikeModel (2014-2020)
MotorSaloon.Library.Models.BikeModel (2018-2019)
MotorSaloon.Library.Models.BikeModel (2014-2019)
MotorSaloon.Library.Models.BikeModel (2014-2020)