ELECTRA GLO LIGHT RINGS - 7" HEADLAMP, CHROME
Part Number:
61400152
Capture the attention of everyone you pass. These euro-inspired Electra Glo Light Rings add a dramatic visual element to the front of your bike. Featuring a brilliant arc of individual white LED lamps, these rings add a distinctive look that defines your style. Sized to fit headlamp and auxiliary lamps on a wide variety of models, the Light Rings are available in chrome and black finishes to complement your customizing direction.
Fits '83-later Touring models (except Tour Glide and Road Glide) and Trike. Fits '12-later FLD, '94-later FLHR models, and '97-later FL Softail models with Headlight Nacelle. Softail models require separate purchase of Wiring Harness P/N 69200602. '14 FLHR models require the separate purchase of harness kit 69200850.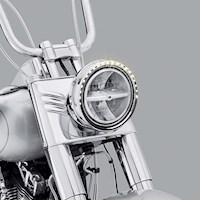 Dit product kan alleen gebruikt worden met de volgende Harley-Davidsons.
DYNA

Softail

FLS (2012-2016)
FLSS (2016)
FLST (2006)
FLSTC (2000-2016)
FLSTCI (2001-2006)
FLSTF (2000-2016)
FLSTFB (2010-2016)
FLSTFBS (2016)
FLSTFI (2001-2006)
FLSTFSE (2005)
FLSTFSE2 (2006)
FLSTI (2006)
FLSTN (2005-2016)
FLSTNI (2005-2006)
FLSTNSE (2014-2015)
FLSTS (2000-2003)
FLSTSB (2008-2011)
FLSTSC (2005-2007)
FLSTSCI (2005-2006)
FLSTSE (2010)
FLSTSE2 (2011)
FLSTSE3 (2012)
FLSTSI (2001-2003)

Touring

FLHR (2000-2016)
FLHRC (2007-2013)
FLHRCI (2000-2006)
FLHRI (2000-2006)
FLHRS (2004-2007)
FLHRSE3 (2007)
FLHRSE4 (2008)
FLHRSE5 (2013)
FLHRSE6 (2014)
FLHRSEI (2002)
FLHRSEI2 (2003)
FLHRSI (2004-2006)
FLHT (2000-2009)
FLHTC (2007-2013, 2000-2005)
FLHTCI (2000-2006)
FLHTCSE (2004)
FLHTCSE2 (2005)
FLHTCU (2007-2016)
FLHTCUI (2000-2006)
FLHTCUL (2015-2016)
FLHTCUSE (2006)
FLHTCUSE2 (2007)
FLHTCUSE3 (2008)
FLHTCUSE4 (2009)
FLHTCUSE5 (2010)
FLHTCUSE6 (2011)
FLHTCUSE7 (2012)
FLHTCUSE8 (2013)
FLHTI (2003-2006)
FLHTK (2010-2016)
FLHTKL (2015-2016)
FLHTKSE (2014-2016)
FLHX (2006-2016)
FLHXI (2006)
FLHXS (2014-2016)
FLHXSE (2010)
FLHXSE2 (2011)
FLHXSE3 (2012)
FLHXXX (2010-2011)

Trike