Skull & Chain Collection - Smokey Chrome
Part Number:
61400051
The sinister smokey chrome finish is the ideal complement to a blacked-out ride, and the contrasting 3-D chain rims the surface and surrounds the distinctive Willie G Skull with black-filled eyes. Select from the traditional skull design, or for a little added zing, choose the version with the edgy jewel-encrusted jaw line. Either way, this complete collection is a tribute to the mechanical side of your ride. Fits '04-later XL models (except XL1200V) with Original Equipment oval air cleaner cover.
Air Cleaner Trim - Jeweled Skull.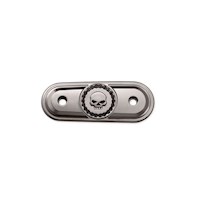 Dit product kan alleen gebruikt worden met de volgende Harley-Davidsons.
Sportster

XL1200C (2004-2016)
XL1200C AN (2008)
XL1200CA (2013)
XL1200C-AN (2013)
XL1200CB (2013)
XL1200CP (2011-2013)
XL1200L (2006-2011)
XL1200L AN (2008)
XL1200N (2007-2012)
XL1200R (2004-2008)
XL1200T (2014-2016)
XL1200X (2010-2016)
XL50 (2007)
XL883 (2004-2008)
XL883C (2004-2009)
XL883L (2005-2016)
XL883N (2009-2016)
XL883R (2005-2007)
XR1200 (2009-2010)
XR1200X (2011-2012)