Replacement Windshield screen
Part Number:
57975-99
Tailor your existing windshield for your riding preference. Replace the original windshield with a screen sized to improve wind protection. Uses your existing mounting brackets and hardware for an easy, economical conversion. Fits '86-later FLS, FLSTC and FLSTF, FLSTFB, '06 FLST and '93-'96 FLSTN models equipped with a H-D® Detachables™ King-Size Windshield. (Does not fit Springer™ models.)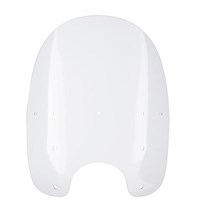 Dit product kan alleen gebruikt worden met de volgende Harley-Davidsons.
Softail

FLS (2012-2017)
FLSS (2016-2017)
FLST (2006)
FLSTC (2000-2017)
FLSTCI (2001-2006)
FLSTF (2000-2017)
FLSTFB (2010-2016)
FLSTFBS (2016-2017)
FLSTFI (2001-2006)
FLSTFSE (2005)
FLSTFSE2 (2006)
FLSTI (2006)
FLSTSE (2010)
FLSTSE2 (2011)
FLSTSE3 (2012)