HoldFast Locking Latch
Part Number:
52300513
Secure your valuables. This locking system allows you to protect your HoldFast Sissy Bar, Luggage Rack or Tour-Pak™ Mounting Rack from theft, providing security and peace of mind when parking your vehicle. The kit includes (2) keys and (1) locking mechanism Fits '18-later Softail models equipped with HoldFast detachable Sissy Bar, Luggage Rack or Solo Tour-Pak Mounting Rack.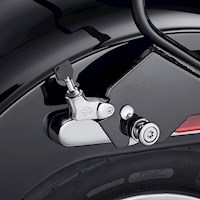 Dit product kan alleen gebruikt worden met de volgende Harley-Davidsons.
MotorSaloon.Library.Models.Family

MotorSaloon.Library.Models.BikeModel (2018-2020)
MotorSaloon.Library.Models.BikeModel (2018-2020)
MotorSaloon.Library.Models.BikeModel (2018-2019)
MotorSaloon.Library.Models.BikeModel (2018-2020)
MotorSaloon.Library.Models.BikeModel (2019-2020)
MotorSaloon.Library.Models.BikeModel (2018-2019)
MotorSaloon.Library.Models.BikeModel (2018-2020)
MotorSaloon.Library.Models.BikeModel (2018-2020)
MotorSaloon.Library.Models.BikeModel (2020)

MotorSaloon.Library.Models.Family

MotorSaloon.Library.Models.BikeModel (2018-2019)
MotorSaloon.Library.Models.BikeModel (2018-2020)

MotorSaloon.Library.Models.Family

MotorSaloon.Library.Models.BikeModel (2018-2020)
MotorSaloon.Library.Models.BikeModel (2018-2020)

MotorSaloon.Library.Models.Family

MotorSaloon.Library.Models.BikeModel (2018-2020)
MotorSaloon.Library.Models.BikeModel (2018-2020)