Badlander Custom Seat
Part Number:
52000211
It's good to be bad. The low and lean Badlander® Custom Seat is designed to fit your bike like a glove. The Badlander Seat delivers low-slung cruiser style from the fuel tank to the rear fender, and gives you the feeling of sitting "in" the bike and not on top of it. This Badlander Seat features rich textured vinyl seating surfaces for durability, and charcoal black leather side panels and dark gray stitching and Harley-Davidson embroidered script for style. The narrow nose of the seat is sculpted to complement any size Sportster fuel tank.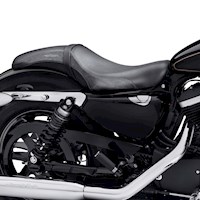 Dit product kan alleen gebruikt worden met de volgende Harley-Davidsons.
Sportster

XL1200C (2010-2018)
XL1200CX (2016-2018)
XL1200L (2010-2011)
XL1200N (2010-2012)
XL1200NS (2018)
XL1200T (2014-2017)
XL1200V (2012-2016)
XL1200X (2010-2018)
XL1200XS (2018)
XL883L (2010-2018)
XL883N (2010-2018)
XR1200 (2010)
XR1200X (2011-2012)