HARLEY® HAMMOCK RIDER AND PASSENGER TOURING SEAT
Part Number:
52000003A
Protect the backside of both rider and passenger from harsh road conditions. With its revolutionary suspension systems, this Harley® Hammock Rider and Passenger Touring Seat offers increased isolation from sharp road impacts. For the rider, sling-like fabric suspension system acts like a hammock to reduce impacts and the two inches of traditional foam on top provides additional support. For the passenger, a multiple spring-board style suspension system along with two inches of traditional foam provides 15% improvement in passenger comfort. The generous seat length accommodates a wide variety of rider sizes and allows fore-and-aft movement to vary the position on a long ride. Available with or without dual-zone heated rider and passenger seating areas, this seat's vinyl surface is easy to clean and maintain. Can be equipped with Rider Backrest (sold separately) on most models.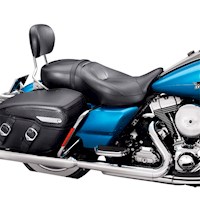 Dit product kan alleen gebruikt worden met de volgende Harley-Davidsons.
Touring

FLHR (2009-2020)
FLHRC (2009-2013)
FLHRXS (2017-2020)
FLHTC (2009-2013)
FLHTCU (2009-2013)
FLHTCUSE4 (2009)
FLHTCUSE5 (2010)
FLHTCUSE6 (2011)
FLHTCUSE7 (2012)
FLHTK (2010-2013)
FLHX (2009-2020)
FLHXS (2014-2020)
FLHXSE (2010, 2015-2020)
FLHXSE2 (2011)
FLHXSE3 (2012)
FLHXXX (2010-2011)
FLTR (2009)
FLTRK (2020)
FLTRSE3 (2009)
FLTRU (2011-2013, 2016-2017)
FLTRUSE (2011)
FLTRX (2015-2020, 2010-2013)
FLTRXS (2015-2020)
FLTRXSE (2012, 2018-2019)

Trike