Turbine Custom Wheels
Part Number:
40790-09
Bring the gleam and add some edge. These cast aluminum "Turbine"-style wheels feature 21 spokes which extend all the way to the edge of the rim, creating the illusion of a larger wheel diameter. Original Equipment on the CVO™ Breakout® model, the visually stunning wheels are meticulously polished and chrome-plated for maximum reflective effect. All Genuine Motor Accessory wheels have been certified by Harley-Davidson to perform to our tough vehicle standards for quality and durability. Requires separate purchase of model-specific Wheel Installation Kit, Sprocket hardware and Brake Rotor-specific hardware. See I-sheet for details. Installation may require separate purchase of wheel size and 
model-specific tire. Fits '13-later FXSB and FXSBSE models. Fits '13-later FXSB and FXSBSE models. Fits '00-later FXS, FXST, FXSTD (except FXSTDSE), FXSTS, FXSTB, FXSTC and FXDWG models. Also fits '08 FXDSE2 models. Fits '06-later Dyna® models (except FLD, FXDWG, FXDF, FXDFSE/2 and '14-later FXDL). Installation on models equipped with Original Equipment laced wheel will require separate purchase of Floating Brake Rotor. Fits '04-later Touring models (except '12-later CVO™). Does not fit Trike models. Requires separate purchase of Open Brake Rotors. See your Dealer or the instruction sheet for specific part numbers.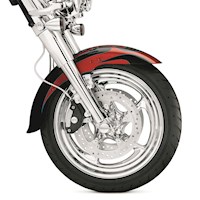 Dit product kan alleen gebruikt worden met de volgende Harley-Davidsons.
Touring

FLHR (2004-2018)
FLHRC (2007-2013)
FLHRCI (2004-2006)
FLHRI (2004-2006)
FLHRS (2004-2007)
FLHRSE3 (2007)
FLHRSE4 (2008)
FLHRSI (2004-2006)
FLHRXS (2017-2018)
FLHT (2004-2009)
FLHTC (2007-2013, 2004-2005)
FLHTCI (2004-2006)
FLHTCSE (2004)
FLHTCSE2 (2005)
FLHTCU (2007-2018)
FLHTCUI (2004-2006)
FLHTCUL (2015-2016)
FLHTCUSE (2006)
FLHTCUSE2 (2007)
FLHTCUSE3 (2008)
FLHTCUSE4 (2009)
FLHTCUSE5 (2010)
FLHTCUSE6 (2011)
FLHTI (2004-2006)
FLHTK (2010-2018)
FLHTKL (2015-2018)
FLHX (2006-2018)
FLHXI (2006)
FLHXS (2014-2018)
FLHXSE (2010)
FLHXSE2 (2011)
FLTR (2007-2009)
FLTRI (2004-2006)
FLTRSE3 (2009)
FLTRU (2011-2013)
FLTRUSE (2011)
FLTRX (2015-2018, 2010-2013)
FLTRXS (2015-2018)