Screamin' Eagle Performance 
Spark Plugs
Part Number:
31600085
Screamin' Eagle Spark Plugs feature double platinum coating for superior erosion resistance and extended life. The "V" trimmed ground electrode reduces shrouding of the flame front to promote flame propagation, and the fine wire center electrode enhances startups and ignitability. Screamin' Eagle Plugs feature Ribbed Core Technology (RCT) that provides resistance to fouling, and are designed with Original Equipment-style noise suppression to prevent electrical interference with radios and CB communication equipment. Works great in racing applications where rich air/fuel conditions are required. Unique style with Screamin' Eagle logo. Sold in pairs. Designed for modified engines including performance carburetors, high-flow air cleaners, camshafts, exhaust systems and ignition systems in conjunction with stock compression ratios.
Standard Compression Applications.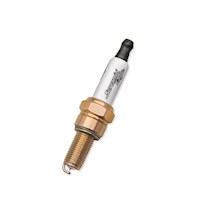 Dit product kan alleen gebruikt worden met de volgende Harley-Davidsons.
DYNA

FLDE (2018-2020)
FXBB (2018-2020)
FXBR (2018-2019)
FXBRS (2018-2020)
FXDRS (2019-2020)
FXFB (2018-2019)
FXFBS (2018-2020)
FXLR (2018-2020)
FXLRS (2020)

Other

FLFB (2018-2019)
FLFBS (2018-2020)

Softail

FLSB (2018-2020)
FLSL (2018-2020)

Street

XG500 (2015-2020)
XG750 (2015-2020)
XG750A (2017-2020)

Touring

FLHC (2018-2020)
FLHCS (2018-2020)
FLHR (2017-2020)
FLHRXS (2017-2020)
FLHT (2019-2020)
FLHTCU (2017-2019)
FLHTK (2017-2020)
FLHTKL (2017-2019)
FLHTKSE (2017-2020)
FLHX (2017-2020)
FLHXS (2017-2020)
FLHXSE (2017-2020)
FLTRK (2020)
FLTRU (2017-2019)
FLTRX (2017-2020)
FLTRXS (2017-2020)
FLTRXSE (2018-2019)