Screamin' Eagle High-Flo K&N® Replacement Air Filter Element
Part Number:
29400276
K&N replacement air filters are engineered to improve airflow for increased horsepower and quicker acceleration. K&N filters provide excellent filtration, and because they are washable and reusable, you can clean the filter whenever conditions demand. Designed as direct replacements for specified fitments.
Heavy Breather - 
Milwaukee-Eight Engine, Black.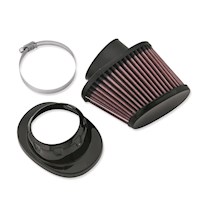 Dit product kan alleen gebruikt worden met de volgende Harley-Davidsons.
DYNA

FLDE (2018-2020)
FXBB (2018-2020)
FXBR (2018-2019)
FXBRS (2018-2020)
FXDRS (2019-2020)
FXFB (2018-2019)
FXFBS (2018-2020)
FXLR (2018-2020)
FXLRS (2020)

Other

FLFB (2018-2019)
FLFBS (2018-2020)

Softail

FLSB (2018-2020)
FLSL (2018-2020)

Touring

FLHC (2018-2020)
FLHCS (2018-2020)
FLHR (2017-2020)
FLHRXS (2017-2020)
FLHT (2019-2020)
FLHTCU (2017-2019)
FLHTCUTGSE (2020)
FLHTK (2017-2020)
FLHTKL (2017-2019)
FLHTKSE (2017-2020)
FLHX (2017-2020)
FLHXS (2017-2020)
FLHXSE (2020, 2017)
FLTRK (2020)
FLTRU (2017-2019)
FLTRX (2017-2020)
FLTRXS (2017-2020)
FLTRXSE (2018-2019)

Trike

FLHTCUTG (2017-2020)
FLRT (2017-2020)