Loctite Freeze & Release Penetrating Lube
Part Number:
11100002
Freeze & Release Penetrating Lube instantly chills seized and rusted bolts, nuts and studs down to -45ºF (-43ºC). The exceptional shock-freeze effect of this penetrating oil causes microscopic cracks in the layer of rust, allowing the lubricating ingredient to wick directly into the rust by capillary action. The rusted bolt assembly can be easily dismantled after allowing only 1-2 minutes penetration time. Aerosol nozzle and straw direct the spray for pinpoint application.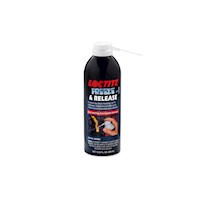 Dit product kan alleen gebruikt worden met de volgende Harley-Davidsons.
DYNA

FLD (2012-2016)
FLD103 (2012-2013)
FXD (2000-2005, 2007-2010)
FXDB (2007-2016)
FXDBI (2006)
FXDBP (2014)
FXDBP103 (2013)
FXDC (2005, 2007-2014)
FXDC ANV (2008)
FXDC-ANN (2013)
FXDCI (2005-2006)
FXDF (2008-2016)
FXDF103 (2012-2013)
FXDFSE (2009)
FXDFSE2 (2010)
FXDI (2004-2006)
FXDI35 (2006)
FXDL (2014-2016, 2007-2009, 2000-2005)
FXDL ANV (2008)
FXDLI (2004-2006)
FXDS (2000)
FXDS CONV (2000)
FXDSE (2007)
FXDSE2 (2008)
FXDSE2 ANV (2008)
FXDWG (2010-2016, 2000-2005, 2007-2008)
FXDWG ANV (2008)
FXDWG103 (2012-2013)
FXDWG2 (2001)
FXDWG3 (2002)
FXDWGI (2004-2006)
FXDX (2000-2005)
FXDXI (2004-2005)
FXDXT (2001-2003)
FXR4 (2000)

Softail

FLS (2012-2016)
FLS103 (2012-2013)
FLSS (2016)
FLST (2006)
FLSTC (2000-2016)
FLSTC ANV (2008)
FLSTC103 (2012-2013)
FLSTC-ANN (2013)
FLSTCI (2001-2006)
FLSTF (2000-2016)
FLSTF ANV (2008)
FLSTF103 (2012-2013)
FLSTFB (2010-2016)
FLSTFB103 (2012-2013)
FLSTFB-ANN (2013)
FLSTFBS (2016)
FLSTFI (2001-2006)
FLSTFI-ANN (2005)
FLSTFSE (2005)
FLSTFSE2 (2006)
FLSTI (2006)
FLSTN (2005-2016)
FLSTN ANV (2008)
FLSTN103 (2012-2013)
FLSTNI (2005-2006)
FLSTNSE (2014-2015)
FLSTS (2000-2003)
FLSTSB (2008-2011)
FLSTSC (2005-2007)
FLSTSCI (2005-2006)
FLSTSE (2010)
FLSTSE2 (2011)
FLSTSE3 (2012)
FLSTSI (2001-2003)
FXCW (2008-2009)
FXCWC (2008-2011)
FXS (2011-2013)
FXS103 (2012-2013)
FXSB (2013-2016)
FXSB103 (2013)
FXSBSE (2013-2014)
FXST (2000-2007)
FXSTB (2000-2009)
FXSTBI (2001-2006)
FXSTC (2007-2010, 2000)
FXSTC ANV (2008)
FXSTD (2000-2007)
FXSTDI (2001-2006)
FXSTDSE (2003)
FXSTDSE2 (2004)
FXSTI (2001-2006)
FXSTS (2000-2006)
FXSTSI (2001-2006)
FXSTSSE (2007)
FXSTSSE2 (2008)
FXSTSSE2 A (2008)
FXSTSSE3 (2009)

Sportster

XL1200 (2000-2003)
XL1200C (2000-2016)
XL1200C AN (2008)
XL1200CA (2013)
XL1200C-AN (2013)
XL1200CB (2013)
XL1200CP (2011-2013)
XL1200L (2006-2012)
XL1200L AN (2008)
XL1200N (2007-2012)
XL1200R (2004-2008)
XL1200S (2000-2003)
XL1200T (2014-2016)
XL1200V (2012-2016)
XL1200X (2010-2016)
XL50 (2007)
XL883 (2004-2008)
XL883C (2000-2009)
XL883HUG (2000-2003)
XL883L (2005-2016)
XL883N (2009-2016)
XL883R (2002-2003, 2005-2007)
XLH1200 (2000-2003)
XLH883 (2000-2003)
XLH883HUG (2000-2003)
XR1200 (2009-2010)
XR1200X (2011)

Street

XG500 (2015-2016)
XG750 (2015-2016)

Touring

FLHR (2000-2016)
FLHR/I (2007)
FLHR103 (2011-2013)
FLHR4 (2008)
FLHR-ANN (2013)
FLHRC (2007-2013)
FLHRC ANV (2008)
FLHRC103 (2011-2012)
FLHRCI (2000-2007)
FLHRI (2000-2006)
FLHRS (2003-2007)
FLHRS/1 (2007)
FLHRSE3 (2007)
FLHRSE4 (2008)
FLHRSE4 AN (2008)
FLHRSE5 (2013)
FLHRSE5-AN (2013)
FLHRSE6 (2014)
FLHRSEI (2002)
FLHRSEI2 (2003)
FLHRSI (2004-2006)
FLHT (2000-2009)
FLHT/I (2007-2009)
FLHTC (2000-2005, 2007-2013)
FLHTC/I (2007)
FLHTC103 (2011-2012)
FLHTCI (2000-2006)
FLHTCSE (2004)
FLHTCSE2 (2005)
FLHTCU (2007-2016)
FLHTCU ANV (2008)
FLHTCU/I (2007)
FLHTCU/SC (2007-2008)
FLHTCU103 (2011-2013)
FLHTCU3 (2008)
FLHTCU3 AN (2008)
FLHTCU8CVO (2013)
FLHTCUH (2009)
FLHTCUI (2000-2006)
FLHTCUI/SC (2000-2006)
FLHTCUL (2015-2016)
FLHTCUSE (2006)
FLHTCUSE2 (2007)
FLHTCUSE3 (2008)
FLHTCUSE4 (2009)
FLHTCUSE5 (2010)
FLHTCUSE5- (2010)
FLHTCUSE8 (2013)
FLHTCUSE8A (2013)
FLHTI (2003-2006)
FLHTK (2010-2016)
FLHTK W/SC (2011)
FLHTK-ANN (2013)
FLHTKL (2015-2016)
FLHTKSE (2014-2016)
FLHX (2006-2016)
FLHX ANV (2008)
FLHX/I (2007)
FLHX103 (2011-2012)
FLHXI (2006)
FLHXS (2014-2016)
FLHXSE (2015-2016, 2010)
FLHXSE2 (2011)
FLHXSE3 (2012)
FLHXXX (2010-2011)
FLTR (2000-2002, 2007-2009)
FLTR ANV (2008)
FLTR/I (2007)
FLTRI (2000-2006)
FLTRSE3 (2009)
FLTRSEI (2002, 2000)
FLTRSEI2 (2001)
FLTRU (2011-2013, 2016)
FLTRU103 (2011-2013)
FLTRUSE (2011, 2015-2016)
FLTRX (2010-2013, 2015-2016)
FLTRX103 (2011, 2013)
FLTRXS (2015-2016)
FLTRXSE (2012)
FLTRXSE2 (2013)
FLTRXSE2-A (2013)

Trike

FLHTCUTG (2009-2016)
FLHTCUTG-A (2013)
FLRT (2015-2016)

V-Rod

VRSCA (2000, 2002-2006)
VRSCA 98 (2006, 2003-2004)
VRSCA98 (2005)
VRSCAW (2007-2010)
VRSCAW 105 (2007-2008)
VRSCAW ANV (2008)
VRSCAWA (2008)
VRSCAWA 10 (2008)
VRSCAWA AN (2008)
VRSCB (2003-2005)
VRSCB 98 (2003-2005)
VRSCD (2006-2008)
VRSCD 105 (2006-2008)
VRSCDA (2008)
VRSCDX (2007-2016)
VRSCDX 105 (2008)
VRSCDX ANN (2012)
VRSCDX105 (2013)
VRSCDXA (2008)
VRSCDXA 10 (2008)
VRSCF (2009-2016)
VRSCF105 (2013)
VRSCR (2006-2007)
VRSCR 105 (2006-2007)
VRSCSE (2005)
VRSCSE2 (2006)
VRSCX (2007)