Billet Clutch Cable Clamp - Edge Cut
Part Number:
10800034
The perfect addition to braided or stock black clutch cables. The clamp is designed to grip the cable and the frame down tube, adding a custom look to the front of your cycle. This Clutch Cable Clamp is machined from aluminum billet and polished and finished for a lasting shine. Fits '11-'14 Softail models with 1.25" diameter front frame downtube (except Softail models with hydraulic clutch).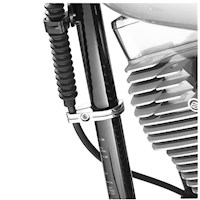 Dit product kan alleen gebruikt worden met de volgende Harley-Davidsons.
MotorSaloon.Library.Models.Family

MotorSaloon.Library.Models.BikeModel (2000-2003)
MotorSaloon.Library.Models.BikeModel (2000-2003)
MotorSaloon.Library.Models.BikeModel (2000)
MotorSaloon.Library.Models.BikeModel (2000)
MotorSaloon.Library.Models.BikeModel (2000-2003)
MotorSaloon.Library.Models.BikeModel (2001)
MotorSaloon.Library.Models.BikeModel (2002)
MotorSaloon.Library.Models.BikeModel (2000-2003)
MotorSaloon.Library.Models.BikeModel (2001-2003)
MotorSaloon.Library.Models.BikeModel (2000)

MotorSaloon.Library.Models.Family

MotorSaloon.Library.Models.BikeModel (2000-2003)
MotorSaloon.Library.Models.BikeModel (2001-2003)
MotorSaloon.Library.Models.BikeModel (2000-2003)
MotorSaloon.Library.Models.BikeModel (2001-2003)
MotorSaloon.Library.Models.BikeModel (2000-2003)
MotorSaloon.Library.Models.BikeModel (2001-2003)
MotorSaloon.Library.Models.BikeModel (2013-2016)
MotorSaloon.Library.Models.BikeModel (2013)
MotorSaloon.Library.Models.BikeModel (2013-2014)
MotorSaloon.Library.Models.BikeModel (2000-2003)
MotorSaloon.Library.Models.BikeModel (2000-2003)
MotorSaloon.Library.Models.BikeModel (2001-2003)
MotorSaloon.Library.Models.BikeModel (2000)
MotorSaloon.Library.Models.BikeModel (2000-2003)
MotorSaloon.Library.Models.BikeModel (2001-2003)
MotorSaloon.Library.Models.BikeModel (2003)
MotorSaloon.Library.Models.BikeModel (2001-2003)
MotorSaloon.Library.Models.BikeModel (2000-2003)
MotorSaloon.Library.Models.BikeModel (2001-2003)

MotorSaloon.Library.Models.Family

MotorSaloon.Library.Models.BikeModel (2000-2003)
MotorSaloon.Library.Models.BikeModel (2000-2003)
MotorSaloon.Library.Models.BikeModel (2000-2003)
MotorSaloon.Library.Models.BikeModel (2000-2003)
MotorSaloon.Library.Models.BikeModel (2000-2003)
MotorSaloon.Library.Models.BikeModel (2002-2003)
MotorSaloon.Library.Models.BikeModel (2000-2003)
MotorSaloon.Library.Models.BikeModel (2000-2003)
MotorSaloon.Library.Models.BikeModel (2000-2003)

MotorSaloon.Library.Models.Family

MotorSaloon.Library.Models.BikeModel (2000-2003)
MotorSaloon.Library.Models.BikeModel (2000-2003)
MotorSaloon.Library.Models.BikeModel (2000-2003)
MotorSaloon.Library.Models.BikeModel (2002)
MotorSaloon.Library.Models.BikeModel (2003)
MotorSaloon.Library.Models.BikeModel (2000-2003)
MotorSaloon.Library.Models.BikeModel (2000-2003)
MotorSaloon.Library.Models.BikeModel (2000-2003)
MotorSaloon.Library.Models.BikeModel (2000-2003)
MotorSaloon.Library.Models.BikeModel (2000-2003)
MotorSaloon.Library.Models.BikeModel (2003)
MotorSaloon.Library.Models.BikeModel (2000-2002)
MotorSaloon.Library.Models.BikeModel (2000-2003)
MotorSaloon.Library.Models.BikeModel (2000, 2002)
MotorSaloon.Library.Models.BikeModel (2001)

MotorSaloon.Library.Models.Family

MotorSaloon.Library.Models.BikeModel (2000, 2002-2003)
MotorSaloon.Library.Models.BikeModel (2003)