Road Tech Navigation Interface Module
Part Number:
76000024A
Available exclusively for Harley-Davidson Road Tech zu¯mo Navigation Systems. The Navigation Interface Module will provide an integrated link between the fairing-mounted Advanced Audio Radio and a Road Tech zu¯mo 660 GPS Navigator. When linked, the music volume will automatically drop when a GPS spoken command is detected, allowing you to hear the instructions through the radio speakers or the 7-pin communications-style headset. The module attaches directly to the radio and is concealed within the fairing. Kit includes adaptor cable that permits stereo sound from the zu¯mo unit's internal MP3 player if connected into radio's AUX input.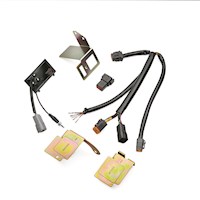 Dit product kan alleen gebruikt worden met de volgende Harley-Davidsons.
Touring

FLHT (2006-2009)
FLHTC (2007-2013)
FLHTCI (2006)
FLHTCU (2007-2013)
FLHTCUI (2006)
FLHTCUSE (2006)
FLHTCUSE2 (2007)
FLHTCUSE3 (2008)
FLHTCUSE4 (2009)
FLHTCUSE5 (2010)
FLHTI (2006)
FLHTK (2020, 2010-2013)
FLHX (2006-2013, 2020)
FLHXI (2006)
FLHXSE (2010)
FLHXSE2 (2011)
FLHXXX (2010-2011)
FLTR (2007-2009)
FLTRI (2006)
FLTRSE3 (2009)
FLTRU (2011-2013)
FLTRX (2020, 2010-2013)

Trike

FLHTCUTG (2009-2013, 2020)