Harley-Davidson® Baby Girls' Printed-On Motorcycle Vest
Size:
Part Number:
3010627/12M
Harley-Davidson® Baby Girl's Printed Motorcycle Vest Infant Creeper, 3010627. Adorable screen printed trompe l'oeil motorcycle vest. What's that mean? The graphic has the illusion of a leather vest being worn over a T-shirt – it looks like two pieces but it is only a one piece creeper. The faux vest has Harley-Davidson® graphics on the left and right, and even has snap buttons to make the deception even better. The illusion is complete with the vest covering each side of "supposed" underlying shirt. It is fun to see baby wearing a vest like Mom wears, even if it's just a visual illusion. It is made with soft 100% cotton, perfect for our baby girl's tender skin. The crouch has a three button snap closure, making it easy to take off and put on.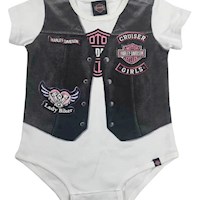 This item also available in the following variants.